"Mom, we are boooorrrred, what can we do?" It was after supper and against all of my inner voices, telling me it as too late etc. I said, "who wants to paint?" We had a great evening. The girls were totally engrossed in their creations. I have to remember a messy endeavor is often the most enjoyable.
We went for brunch, and the kids decided to play outside. We have had so much snow in the past week. More than we've seen in several years. I blogged about the strange snow escapades
here
.
This picture was chosen simply for posterity's sake. There has been a record snowfall in our city in a one day period. And what is even more amazing is that The Agronomist is keeping up with the snow removal. I love him for it.
Rec league soccer. Due to her asthma, Middlest plays goalie. And she does a good job of it too. She's been playing for five years and the girls have a lot of fun.
Eldest took this picture. She was trying out my new lens. This is a look youngest gives us quite often. She just looks at you, as though she is not impressed. But she doesn't even know she's doing it. I can't wait to find out who she will become.
Eldest has been figuring out my new lens. And yes the tree is still up. In fact I am considering starting a new custom and leave it up all year. So there.
A really nice evening spent unbeknownst to me and the other guests, with a friend who turned 40 that evening. Sneaky huh? These tulips were on her kitchen island.
This post will be linking up with: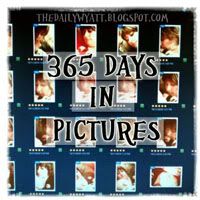 xoxo,